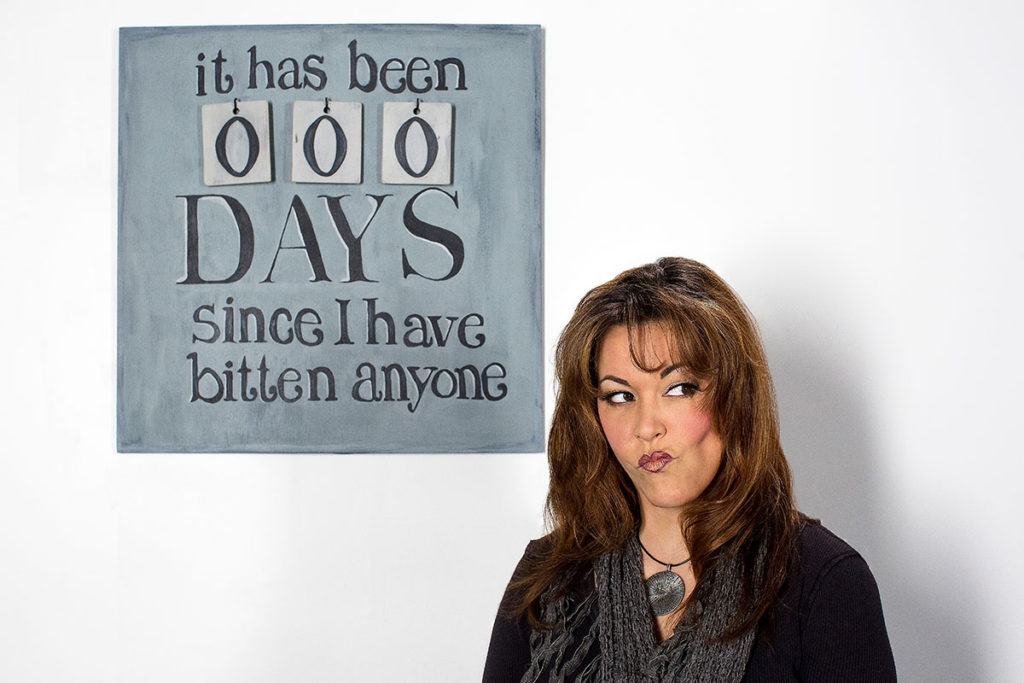 "I collect skulls, and own bloodletting fleams.
I do magic with human fingerbones."
Meet Misty Lee – a Creeper in a Corset.
Magician, Séance Medium, Professional Voice Actress, and Writer – Misty Lee is renowned for her saucy brand of sorcery and sophisticated stage illusion.
"I've always had a case of the bold."
Raised in Detroit near notorious 8-Mile—the world where Eminem's fictional movie was set—Misty credits her 'school of hard knocks' upbringing as inspiring her macabre sense of humor and interest in the so-called "dark arts."  She began performing magic when she was just sixteen but was quickly disillusioned by the ever-shrinking costumes given to her by the local talent dispatch. 
"I wanted magic to be more than just sparkles, skin, and pointing at things." 
She tried to swear off magic, but her Musical Theater and Improv backgrounds proved a fertile ground for magic.  "It followed me," Lee says.  "Magic for me is like a tick – it dug right in, and it refuses to let go."  Misty's no-nonsense approach to prestidigitation, her creativity, and her affinity for fearlessly speaking her mind has honed her career, and has won her both respect and friends among magic's best and brightest.   She explains her unusual choice of the Magician (rather than the Assistant) Role with practical simplicity:
"I started as the girl inside the box.  I decided that job stunk, so I took his."
Misty moved from Detroit to Los Angeles in 2005. In the eight years since, Misty has become the go-to girl for all things magically freaky, demonstrating her spooky skills in stage performances, séances, hosting, and magical consulting. 
"I grab darkness by the guts and yank it into the light."
An "Eerie Enthusiast," Misty utilizes her personal collection of artifact oddities, antique toys, and 19th century medical devices to give her performances an extra dose of the goosebumps. Grounding her prestidigitation in her affinity for character-based comedy—she's a SecondCity graduate—and her macabre sense of humor, Misty succeeds in entertaining while terrifying.
"Although deception is my gig, there always has to be some truth to it.  An audience giving you time creates an obligation to connect, and make them feel something.  They're allowing you to deceive them because they hope the emotional experience is worth it.  Why else would they WANT to take that journey?"
The only magician ever admitted into the Institute of Analytic Interviewing, Misty Lee underwent training alongside CIA, ATF and Scotland Yard agents with 'Truth Wizard' J.J. Newbury. Her mastery of Cognitive Interview techniques and skill for reading both Microexpressions and Body Language has enhanced her ability to deceive on stage and inspired her nickname of 'Human Lie Detector.'   "Some people say it makes me Sherlock-ian and scary," admits Lee with a grin.  "I think it just renders me a bit annoying." Magic's 'Wicked Witch of the West Coast,' Misty is also a professional vocal actress with extensive training in theater and Improv. She can be heard in an array of cartoons and video games, including Bioshock Infinite's kid-killing Nanny, and Aunt May on Disney XD's Ultimate Spider-Man.
"Every role, no matter how light or dark it is, is rooted in personal experience. If it isn't personal, it's not real – and if it isn't real to YOU, the audience smells it right away."
When not performing or communing with the dead, Misty Lee enjoys tormenting the living, notably her husband, writer Paul Dini.  Lee spends much of her free time volunteering for Animal Rescues, and playing Kingdom of Loathing. She is also aunt to a bevy of delightful nieces and nephews, with whom she sometimes shares her toys.
CONTACT MISTY
If you are interested in booking Misty for a corporate performance, television appearance, or magic consulting, please fill out the contact form below with details about your event, or contact us directly at info@mistylee.com.
If you are interested in using Misty's voice on your project, please contact Atlas Talent in Los Angeles:  (310) 324-9800  or in New York: (212) 730-4500