REVIEWS
Whether or not she's performing tricks, Misty Lee demonstrates magical talent in all that she attempts. Check out these glowing testimonials from guests and clients alike.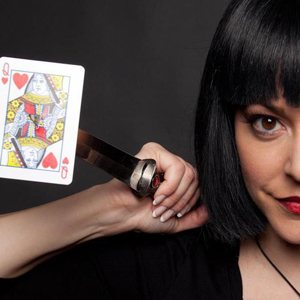 Photo by Alan Weissman
Séances and Magic
Misty works harder than anyone I have ever met, and has an enthusiasm that leaves me breathless. She is stunning—with a quality that seems iconically magical—but she never takes the easy road of resting on her looks. In our show, I play a hyper-rational being and she represents the mystical. We compete and assist each other in a series of effects that display a wide range of skills. Her relationship with me has been both as student and peer. Tough goals don't frighten her, rather they energize her; this too demands respect.
-Jonathan Pendragon
My first visit to the Magic Castle… in 27 years of being in Los Angeles, you would think it would have happened sooner… I personally saw Misty's Houdini Seance. If you are looking for a very personal and interactive experience, this is the one I recommend. For all those magic freaks out there, they actually have the handcuffs Houdini escaped from…and even the ones he didn't make it out of. You are literally surrounded in a room full of his things. Kinda…creepy.
She really captured the essence of it all, and her magic is so seamless I didn't even realize it was a magic trick until it was over!
-Amy McNamara
I recently had the pleasure of attending one of Misty's Houdini Séances at the famous Hollywood Magic Castle. I'm not a believer, and I thought this show might be corny or kid-ish. However, Misty has a unique way of throwing you off guard with real stories about the Castle's history and magicians past. When she starts to talk about a fire that burned up the third floor, you'll wonder if there isn't a kernel of truth beneath the smoke and mirrors. And regardless of what you believe, you won't be able to help but enjoy Misty's amazing talent for magic and storytelling. Do yourself a favor and see this show!
-Jessica LaBarbera
Voice Work
'GREAT!' was the final word from the Client this afternoon for your voice over. You gave the project the polished sound they were looking for. It was fun working with you – thank you for a super job!
– Ed Horn, Ethics of Practice Teleseminar
Thanks again for your wonderful talent, work, and fast turnaround! Perfect!
– James Melvin, Flight Simulator Director
Misty is a vocal rubber band. Seriously – Misty is a FIND.
– Nancy Wolfson, Braintracksaudio.com
Voice artist Misty Lee recorded the on-hold messages for a number of the medical practices my company represents, including La Peer Health Systems in Beverly Hills. Not only is Misty a pleasure to work with, but her smooth, reassuring voice provides the ideal tone to put patients at ease. The doctors–and myself–were thoroughly impressed by her performance, and I immediately contracted her to handle the voiceover work for my company as well.
-Risa Goldman, Founder and President of Goldman Marketing Group
Client List
Misty has showcased her amazing abilities for an impressive array of production companies and corporations including:
Commercial Work and Promotions
Baskin-Robbins, ICON Hairstyling Products, Vera Bradley, The Magic Castle, Goldman Marketing Group, Google, Microsoft, Hallmark
Video Games
Arkham Asylum 2, Bioshock Infinite, The Last of Us
TV Shows, Films and Cartoons
The Garfield Show, Pretty Little Liars, Ultimate Spider-Man, They Are Here: The Real World of the Poltergeists, The Potts
With training from sound experts like Nancy Wolfson, Bill Holmes, Bob Bergen, Rich Horovitz and more, Misty has the talent and skills to conquer any commercial, animation, promotional or announcement project. Want to witness Misty's vocal skills for yourself? Check out these demos.
Contact Misty Lee
Interested in booking Misty for a magical or voice performance? Contact her booking manager at 800 677 0860 or send an email to info@mistylee.com.
Next, read more about Hollywood's hottest female magician.