RESOURCES FOR KIDS
A lifelong devotee of the off-beat and weird, Los Angeles Illusionist Misty Lee began performing in magic shows when she was still a teenager. Although initially a magician's assistant, she quickly tired of the job and decided to don the cape and hat herself. Since then, she's honed her skills for a wide range of magical arts including illusion, card tricks, human lie detection and séance medium work. A self-described Creeper, Misty encourages everyone to discover his or her unique magical voice. She recommends the following websites, books and resources for kids and aspiring magicians of all ages.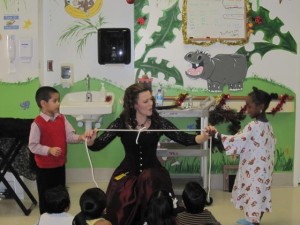 Photo by Annabel Gray
Children see magic because they look for it.
-Christopher Moore
Resources for Young (and Not-So-Young) Magicians
Magic Tricks for Kids
http://www.kidzone.ws/magic/ http://pbskids.org/zoom/activities/do/magictricks.html http://www.funology.com/magic-tricks/  
Fraternities
The International Brotherhood of Magicians The Society of Young Magicians  
Books 
Fiction Alice in Wonderland by Lewis Carroll The Wonderful Wizard of Oz, by L. Frank Baum Pandora (a series) by Carolyn Hennesy The Seven Faces of Dr. Lao by Charles G. Finney The House with the Clock in its Walls by John Bellairs Harry Potter and the Sorcerer's Stone (Book 1) by J.K. Rowling The Lightning Thief (Percy Jackson and the Olympians) by Rick Riordan Coraline by Neil Gaiman The Man Who Was Magic by Paul Gallico Zatanna:  Everyday Magic by Paul Dini   Nonfiction/Reference Mark Wilson's Complete Course in Magic by Mark Wilson Abracadabra by Nathaniel Schiffman The Magic Book by Jane Bull Hiding the Elephant by Jim Steinmeyer Max Maven's Book of Fortune Telling The Magic of Lewis Carroll, edited by John Fisher The Uses of Enchantment by Bruno Bettelheim
More Magical Tricks (And Treats)
Want more tips and tricks from Misty, the best magician in Los Angeles? Check out these videos featuring Magic's Saucy Sorceress. Next, read about Misty's work as a voice actress.