VOICE
In addition to being the best female illusionist in Los Angeles, Misty Lee has put her pipes to work on a wide range of vocal endeavors ranging from commercial projects and promotions to video games, television programs, and film.  She can also make some pretty disturbing creature noises.  She's both so versatile and such a delight, directors call on her again and again.
Learn more about Misty Lee's voice work by visiting http://www.mistyleevo.com/.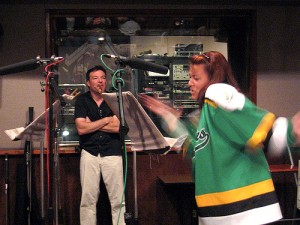 Photo by Sandy Mooney
 Misty is a vocal rubber band. Seriously – Misty is a FIND.
– Nancy Wolfson, Braintracksaudio.com
Trained by Nancy Wolfson, Bill Holmes, Bob Bergen, Richard Horovitz and other leading experts in the business, Misty applies her powerful acting and vocal skills to any task, be it Commercials, Cartoons/Animation, Videogames, Motion Capture, Promos, Narration, Live Announcing, or IVR.  A graduate of Second City LA with special training in musical improvisation, Misty possesses the skills and experience to adapt her tone successfully to any project.
Misty's Voice Work
By turns reassuring, hilarious, vulnerable, and terrifying, Misty's voice, along with her tremendous range as an actor, vocal flexibility, and grounded, entertaining characterizations, have already been chosen by the following clients in 2013 alone (and this is just a partial list!):
Animation/Videogames 2013 – partial list:
Disney
Marvel
Sony
Blizzard
CapCom
Google
Blind Ferret
Commercials 2013 – partial list:
DirecTV
Old Navy
Hallmark
Quickbooks
La Peer Health Systems
Promos 2013 – partial list:
Live Announce 2013 – partial list:
National Retailers Foundation
Magic Castle Awards
Voice Roles
From adorable to deplorable, Misty Lee has the pipes and chops to tackle just about any game voice acting job. Here are some details on her most recent animation and video game voice roles:
The Nanny, Bioshock Infinite
Self-described Professional Creeper and Theatrical Seance Medium, Misty Lee felt right at home voicing Bioshock Infinite's menacing Nanny. A creepy caretaker, the Nanny lures small children to their doom with the sweet intonation one might use to comfort a loved one.
Aunt May, Ultimate Spider-Man
Misty has appeared as Peter Parker's beloved Aunt May in 17 episodes of the Ultimate Spider-Man TV series. After Peter's Uncle Ben is killed, Aunt May serves as Spider-Man's supporter and emotional bastion. Sweet but strong, Aunt May Parker's pragmatic caretaker persona is a lot like Misty's quiet side.
Angie/ Scheherazade, The Garfield Show
Misty was featured on The Garfield Show as both the Aussie Tourguide 'Angie' and the Magical Storyteller 'Scheherazade.' She's also voiced a squirrel, a lion cub, and several other characters on the show.
Various Characters, Radio Rashy Podcast
Misty voices characters in the Radio Rashy podcast, which she created with her husband, writer Paul Dini.   Rashy is Paul and Misty's sassy, brassy, very-poorly-behaved sock monkey son.  See him in action.

For more roles as they're announced, please visit Misty's IMDB page.
To see Misty perform 'Snow White' at ComicCon 2012 – along with Dee Bradley Baker (Perry the Platypus), Fred Tatasciore (The Incredible Hulk), Gregg Berger (Garfield's Odie), Mad Men and Big Love's Audrey Wasilewski, and Rob Paulsen (Raphael the Ninja Turtle, Pinky, and Yakko the Animaniac), check out this video clip.
Misty is also the voice of the famed Hollywood Magic Castle, as well as its first-ever female Staff Medium. Learn more about her fascinating Houdini Séance.
Special Skills
With her highly adaptable tone, Misty Lee can voice characters ranging in age from children to seniors. She also performs in most accents, particularly the following: British, French, New York, New Jersey, Southern, and Russian.
Want to hear Misty Lee's incredible pipes for yourself? You can listen to samples of Misty's magical voice work here. You can also hear her amazing skills on the Radio Rashy podcast.
Book Misty Now
Thanks again for your wonderful talent, work, and fast turnaround! Perfect!
– James Melvin, Flight Simulator Director
Please visit MistyLeeVO.com to learn more about Misty Lee's voice acting roles. Misty possesses the talent, training, and equipment for all your animation, acting, promotional and announcing projects.  Los Angeles female voiceover Misty Lee has ISDN, SourceConnect, and Phone Patch capabilities.
Interested in booking Misty Lee for a commercial or game voice acting role? Contact her voice agent, Heather Vergo, at Atlas Talent by calling (310) 324-9800. You can also inquire online at info@mistylee.com.